Filter by Category
Navigation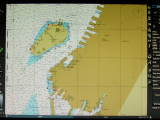 Electronic Chart Display and Information System Course

Jul 6, 2020 at 8:30 am
Scope
This course provides the knowledge, skill and understanding of Electronic Chart Display and Information Systems (ECDIS) to the extent needed to safely navigate vessels whose primary means of navigation is ECDIS. The course emphasizes both the application and learning of ECDIS in a variety of underway contexts.This is achieved by standard lecture, demonstrations on the use of EDICS using demonstration software and through the use of an approved ECDIS simulator.
Entry Standards
This course is not designed to teach basic navigation skills ,it is designed to teach students how to navigate safely with ECDIS.There for students must have successfully completed formal traininging in Terrestrial Navigation and the use of RADAR/ARPA demonstrating proficiency in basic navigation skills prior to taking this ECDIS course. In addition students must also have accomplished a period of supervised bridge watch standing duties and should have considerable familiarization with basic computer operations systems, keyboards and mice or trackballs.
Payment plan available: $250 deposit plus 4 payments of $262.50, paid weekly.